Henry Morgenthau, Jr. (1891-1967)
Henry Morgenthau, Jr. was born May 11, 1891 in New York City, the grandson of German Jewish immigrants and the child of Henry Morgenthau, a realtor and diplomat, and Josephine Sykes Morgenthau. Educated in private schools, young Morgenthau studied architecture and agriculture for two years at Cornell University. In 1913, he bought an apple and dairy farm in East Fishkill, New York, a town in Dutchess County. It was there that Morgenthau met and befriended Franklin and Eleanor Roosevelt, who lived in nearby Hyde Park. As a World War I colleague of Herbert Hoover, Morgenthau helped the U.S. Farm Administration develop a plan to send tractors to war-ravaged France. In 1922, Morgenthau bought the American Agriculturist, which he continued to publish until 1933. He served as chair of the New York State Agricultural Advisory Committee from 1928-1930, after which he served on the state Conservation Commission until 1932.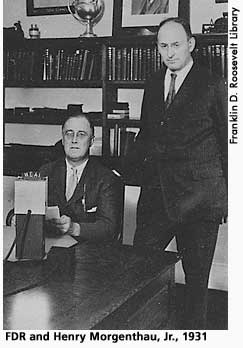 In 1933, President Roosevelt appointed Morgenthau governor of the Federal Farm Board, and in November of the same year, when acting treasury secretary William Woodin's ill health forced his resignation, Roosevelt named Morgenthau undersecretary of the treasury and promoted him to secretary of the treasury the following year. Morgenthau held that post until 1945. During his tenure in this office, he became famous for resisting Keynesian economics and raising over $200 billion through the sale of bonds.
Morgenthau's legacy is more than wartime fiscal policy. Although treasury was not initially involved in establishing military or refugee policy, Morgenthau and his department eventually played a key role in American refugee policy when they helped convince FDR to establish an independent refugee agency outside the state department. The War Refugee Board, not the recalcitrant State Department, would assume responsibility for rescuing European Jews and would take the lead in saving as many as 200,000 European Jews. In 1944, he proposed a plan for postwar Germany that called for Germany to be stripped of its industry and forced to return to an agrarian economy; although the plan was considered, it was ultimately rejected. Later that year, Morgenthau was a major player at the Bretton Woods Conference, the birthplace of the International Monetary Fund and the International Bank for Reconstruction and Development (precursor to the World Bank). The week after FDR's death, Morgenthau urged ER to continue her political career and to speak out forcefully on the issues, arguing that her voice was needed more than ever in the postwar world.
After leaving the cabinet on July 22, 1945, Morgenthau became a philanthropist and a leading financial advisor to the new nation of Israel. He died in Poughkeepsie, New York, on February 6, 1967.
---
Sources:
American National Biography Online.
Beschloss, Michael. The Conquerors: Roosevelt, Truman and the Destruction of Hitler's Germany, 1941-1945. New York: Simon and Schuster, 2002, passim.
Graham, Otis L., Jr., and Meghan Robinson Wander. Franklin D. Roosevelt, His Life and Times. New York: Da Capo Press, 1985, 265-267.